Firefly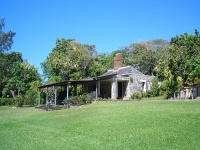 Firefly Cottage © Marc Veraart
Firefly cottage, on the cliff above Port Maria, was the holiday retreat of famed British playwright and composer Sir Noel Coward.
Coward died in 1973 and the house is now a national monument which has been preserved almost exactly as Coward left it, complete with two grand pianos on which he composed some famous tunes. Seeing all his belongings and the place he lived and wrote is a big thrill for his fans, but the place is delightful even for those who don't know him because of the spectacular coastal views. Coward is buried in the garden under a simple marble gravestone and there is a statue of him in the grounds.
The cottage is off the beaten track, and the lack of crowds adds to the its charm. There is a small bar at Firefly, so you can enjoy a drink while admiring the view.
Address: Port Maria
Website: www.firefly-jamaica.com