Bob Marley Mausoleum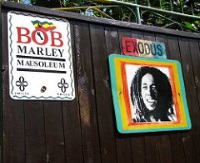 Bob Marley Mausoleum © Dubdem e FabDub
Reggae music fans the world over make the pilgrimage to the famed singer/songwriter's grave site at the village of Nine Mile, about 40 miles (65km) south of Ocho Rios. Marley was born here and lived in the Nine Mile hamlet until he was 13. The two-room shack in which he lived is open to view as a sort of museum and memorial, filled with memorabilia, and alongside it is the mausoleum in which Marley and his half-brother are buried.
There is lots on sale, including marijuana, and many touts and tour guides congregate at the place but they tend to be good natured and can be very interesting to talk to. You can sit on Marley's meditation spot, resting your head on the rock 'pillow' he mentions in his song lyrics. The site also has a vegetarian restaurant and small shop. Reggae concerts are held at Nine Mile each year on 6 February, Marley's birthday.
Many tourists in Jamaica miss out on the beauty of the rural, inland regions because they tend to stick to the coast, so this excursion is also a great way to explore the lovely scenery around Nine Mile and Mount Zion. You will pass through some villages on the way, and view snippets of average Jamaican life.
Address: Nine Mile