Rhodes Hall Plantation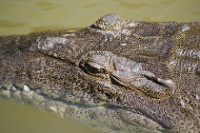 Crocodile © Jannes Pockele
The beautiful estate of Rhodes Hall Plantation lies a short distance east of Negril. Here guided horseback excursions give a glimpse of the magic and mystery of the Jamaican countryside. Guides give some basic horsemanship tips and then take tourists off through the foothills, pointing out botanical wonders and regaling riders with stories and legends about local landmarks.
Visitors are taken through forests of banana and coconut palms, and along a beach to the Crocodile River, where hopefully groups can 'meet' one of the resident crocodiles. Swimming gear is a must, as the horses like to head into the surf. The riding tours last from half an hour to two hours, and are inclusive in the round-trip transportation from any hotel in the Negril area.
There is a restaurant and a gift shop on the plantation. Children are welcome and will love this excursion, but only children over six can ride.
Website: www.rhodeshallplantation.net