Appleton Rum Estate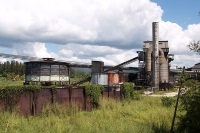 Appleton Estate © Acampbell3000
Nestling in the sugar cane fields of St Elizabeth parish, the Appleton Rum Estate near the village of Magotty offers visitors the chance to find out all there is to know about the production of rum. There is a small museum with equipment and artifacts from days gone by, and a resident donkey to demonstrate how sugar cane used to be crushed by turning the teeth of the mill.
Visitors are shown how the sugar cane is harvested, processed to be distilled in handmade oak barrels, and finally blended and bottled. Thirsty tourists can end off their visit at the tavern to sample the estate's rums and liqueurs. Tours also usually include a complimentary bottle of rum. The guides are friendly and extremely proud of their product.
Note that the roads to the estate are rather hair-raising, although they wind through some lovely scenery. Photos are not allowed at certain stages of the tour because Appletons wants to preserve some of its secrets!
Website: www.appletonestate.com