Black River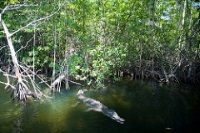 Crocodile In The Black River © Jan Hazevoet
Black River town, once an influential producer of black textile dye, is now a stop off point for tourists looking to take a boat safari on the Black River itself. At 44 miles (71km), this is Jamaica's longest river, and gets its name from the peat moss on the river floor which makes the crystal clear waters appear black.
90-minute boat tours take in the 125-square-mile (324 sq km) area of wetland known as the Great Morass, which is home to crocodiles and diverse birdlife. The excursion allows visitors to explore the wetlands and mangrove swamps along the river banks.
The crocodiles are the main attraction for most visitors. Many tours include a visit to the crocodile rehabilitation centre. However, the clear waters mean visitors are likely to get a good view of the crocs in their natural habitat.