Masai Mara National Reserve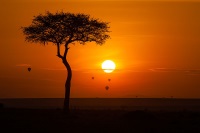 Sunset & Hot-Air Balloons © Svein-Magne Tunli
Kenya's most visited park, commonly known as the Mara, is a wildly beautiful place with rolling savannah grasslands. It is an extension of the Serengeti Plains in neighbouring Tanzania. Much of the film Out of Africa was filmed here and it offers wonderful views and an extraordinary concentration of wildlife, including the 'Big Five'. It has the largest population of lion in Kenya, and large herds of grazers also attract many other predators such as cheetah, leopard and hyena.
The annual highlight is the Great Wildebeest Migration, creating one of the world's supreme natural spectacles, when an estimated two million animals form one large herd and leave the dry plains of Tanzania to seek greener pastures in the north, arriving in the Mara from late June onwards and returning again in October. Their entrance into the Mara makes a breathtaking spectacle, as they cross the crocodile infested waters of the Mara River. A once in a lifetime way to experience the magic of an African dawn over such a wilderness is by hot air balloon, drifting silently over the herds below. These can be booked through any safari company and operate daily from several of the lodges in the reserve.
Also within the reserve is a Masai village that holds demonstrations of traditional dances and music as a source of tourist income for the local communities of the Masai Mara National Reserve. Traditionally the lands were used by the Masai for their herds of cattle and the settlement programs set up to compensate for their displacement have only recently been accepted, albeit reluctantly. The proud warriors have become a symbol of tribal Kenya with their beadwork, feathers, spears, decorated gourds and red blankets. Today the Masai communities are allowed to hunt and graze their animals in the reserve, and the occasional flash of red glimpsed between the thorn trees and bush on the fringes of the Mara has become a natural part of the Mara's character.
Address: Narok County, Kenya
Website: www.maasaimara.com/