Forbidden City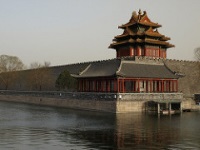 Forbidden City © Peter Rowley
The majestic Forbidden City is a historical precinct situated in the heart of Beijing. This UNESCO World Heritage Site has been declared the largest collection of preserved ancient wooden structures in the world. The Forbidden City, called Gu Gong in Chinese, was the imperial palace during the Ming and Qing dynasties.
It is the biggest and best preserved complex of ancient buildings in China, and the largest palace complex in the world. Construction began in 1407, and for 500 years this inner sanctum was off limits to most of the world as the emperors lived in luxury, secluded from the masses and surrounded by their families, servants and members of court.
The Forbidden City has a permanent restoration squad working continuously to keep the more than 90 palaces and courtyards, 980 buildings and 8,728 rooms in perfect condition. Now open to all visitors, its museum is home to a priceless collection of ancient artefacts. The complex can get overrun so it is best to go early in the morning to fully appreciate the layout of the place without too many crowds.
Website: www.dpm.org.cn/english/default.asp
Opening times: Daily 8.30am - 4.30pm (November to March); 8.30am - 5pm (April to October).
Admission: CNY 60 (April to October); CNY 40 (November to March)