Tiananmen Square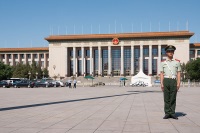 Tiananmen Square © Uwe Aranas
This famous square at the heart of Beijing attracts tourists not only with its pleasing design and views of numerous landmarks, including the famous painting of Chairman Mao, but also because it was the scene of so many historic events and is said to be the largest city square in the world. In the ancient imperial days, the square was a gathering place and the site of government offices, but more modern history, particularly the 1989 massacre of pro-democracy demonstrators, has made it a site of great political significance. Major rallies took place in the square during the Cultural Revolution when Mao Tse Tung reviewed military parades up to a million strong.
The square is surrounded by several monuments, some ancient and some modern, including the former gates to the Forbidden City, the Gate of Heavenly Peace and Qianmen (the front gate), the Chinese Revolution Museum, and the Mao Mausoleum, where China's former leader lies preserved. There is also an underground walkway connecting Tiananmen Square with the Forbidden City. Like most big tourist attractions in China, it is best to try and go early in the day to avoid the masses (the square opens to visitors as early as 5am). Visitors in summer are advised to wear sunscreen or a hat, as there is little shade to be found.
Address: Dongcheng, Beijing
Opening times: Open all day.
Admission: Free to visit the square; CNY 15 to climb Tiananmen Tower.