Great Wall of China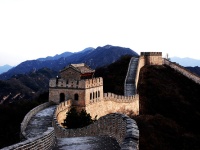 The Great Wall of China © Marianna
The Great Wall of China, a UNESCO World Heritage Site, is a perennial favourite among tourists, and with good reason. The magnificent Great Wall, stretching 4,000 miles (6,350km), was built in stages from the 7th century BC onwards, snaking its way across the mountains and valleys of five provinces in northern China as a mammoth defence bulwark against the neighbouring Manchurian and Mongolian peoples.
Several sections of the wall, which has become the most prominent symbol of Chinese civilisation, can be viewed in the greater Beijing area. In Yanqing county, in northwest Beijing, is the 600-year-old Badaling Fortification, representative of the Ming dynasty sections of the Great Wall. Other sections can be seen at Jinshanling, Mutianyu, and Simatai. The more popular sections can be very crowded, but generally if travellers walk a little way they can escape the worst of it. There are some wonderful stretches of the wall to hike, such as the roughly six-mile (10km) section between Jinshaling and Simatai, but visitors should be careful about setting off alone as parts of the wall are unstable and unsafe. It is best for visitors to take their own water and snacks and to pack very warm clothes if planning to go in winter, because temperatures at the wall can be freezing. There are countless vendors, but their goods are usually very expensive and of questionable quality. It is illegal to remove stone from the wall and Chinese authorities are clamping down on the practice.
Website: www.mutianyugreatwall.net
Transport: To Mutianyu: Travellers can take the 916 bus from Dongzhimen station (in downtown Beijing) to Huairou, where they can take a minibus taxi to the wall.
Opening times: April to October 7am - 6pm; November to March 7.30am - 5.30pm
Admission: CNY 45 (adults); CNY 25 (children)