Zhoukoudian Cave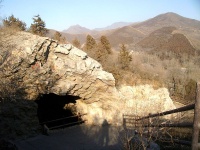 Zhoukoudian Cave © Mutt
About 25 miles (40km) south of Beijing, in the Fangshan District, is the Zhoukoudian Cave, the source of the largest collection of Homo erectus fossils from any single site in the world. The fossils recovered from the cave represent about 40 individuals, most famous of which is a cranium element commonly known as the 'Peking Man', the world's earliest fire-using primitive man who lived between 200,000 and 700,000 years ago. German anatomist Franz Weidenreich studied the Peking Man remains in the 1930s and recognised 12 anatomical features that he believed Peking Man shared with modern man, a milestone in the study of palaeoanthropology.
Visitors to the Zhoukoudian site on Dragon Bone Hill can view a comprehensive seven-room exhibition of fossils and artefacts depicting human evolution and the lifestyle of primitive man. The exhibits showcase fossils from all over China, allowing visitors to compare the different lifestyles of the primitive communities that have been discovered. They can also explore the cave where the Peking Man cranium and other Homo erectus remains were found. The area surrounding the caves has several animal sculptures and pleasant shady areas in which to relax. Travellers who go early might even have the site to themselves.
Address: Zhoukoudian, Fangshan
Website: www.zkd.cn
Telephone: 010 6930 1272
Transport: Bus 917 from Tianqiao station to Zhoukou Cun Lukou, before taking Fangshan Bus 38 to Yuan Ren Yi Zhi (Zhoukoudian Cave)
Opening times: April to October 8.30am - 4.30pm; November to March 8.30am - 4pm.
Admission: CNY 30 (adults), concessions available