Lake Naivasha and Elsamere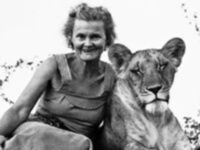 Along the southern shore of Lake Naivasha is the former home of naturalist and painter Joy Adamson, author of Born Free, which is now the Elsamere Conservation Centre, incorporating a guesthouse and a small museum. Visitors are invited to join the guests daily at 4pm for a sumptuous tea on the lawns of the beautifully peaceful lakeside setting, occasionally joined by the mischievous Colobus monkeys with a taste for cheesecake. The museum has displays portraying the true story of Joy and the lioness Elsa that she raised from birth, and her attempts to return her to the wild, as well as her paintings and personal artefacts. There is also a video shown about the story of Elsa the lioness.
Lake Naivasha is a shimmering waterscape of floating hyacinth surrounded by mountains, and the skies above are pierced by the distinctive cries of the fish eagle. Brightly coloured kingfishers dart into the waters from their papyrus perches and ugly Marabou storks strut along the shoreline like cantankerous sergeant majors. The trees are home to Colobus monkeys and at night the earth shudders with the movement of grazing hippos. The southern shore of the lake is lined with hotels, campsites and guesthouses, prettily situated either on the shore or higher up on the slopes of the mountain with fantastic views over the lake. Boat trips are a popular way to explore the lake and also the private Crescent Island Game Sanctuary.
Website: www.elsatrust.org