Hells Gate National Park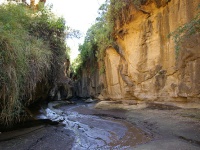 Named for the pair of massive red cliffs of the Njorowa Gorge that encloses a geothermic area of hot springs and steam vents, Hell's Gate is one of the two parks in Kenya that allows visitors to explore on foot, making it an ideal place for hiking, cycling, camping and rock climbing. It is famous for its natural steaming geysers, and the towering cliffs provide an eagle and vulture breeding ground. The wide plains are home to numerous animals, such as zebra, buffalo, eland, gazelle, hartebeest, warthog and baboon and the experience of walking alongside a giraffe or past a herd of zebra is a memorable one.
One of the most popular ways to explore the park is to hire bicycles at the park gate and ride unaccompanied down to the gorge. The bikes are not always in the best condition but they are cheap and the journey is a wonderful experience; if you do get tired or stuck with a bad bike the route is patrolled regularly by rangers who give stragglers lifts. Upon reaching the gorge it is best to hire a guide to help you along the hike route: the guides help you traverse the route through the canyon and explain the interesting geological origins and features of the landscape, as well as explaining the local mythology and Masai names given to the features. After the tour you can ride back to the gate or get a lift. It is also possible to camp in the park.
Website: www.kws.org