Lake Nakuru National Park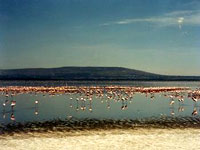 Although tiny, this park has a high concentration of game with everything wildlife enthusiasts could wish for except elephant. Lake Nakuru is one of Kenya's most important rhino sanctuaries. Apart from the rhino, there are several prides of lion and it is the best place to spot leopard. The surface of the shallow alkaline lake covers about a third of the park and the saline concentration supports a blue-green algae that attracts thousands of flamingos. This pulsating pink carpet covering the fringes of the lake is a breathtaking sight and at any disturbance the air above becomes a noisy confusion of long pink legs and reddish wings in flight. The flamingos, and generally rich birdlife, make the park extremely popular with bird watchers, although some ornithologists have complained that the lake is sustaining fewer and fewer birds. Large flocks of pelicans are also attracted to the rich food source in the lake and waterbuck and the rare Rothschild Giraffe are common sights along the shores. The park has several high points with good lookouts and waterfalls, and monkeys and baboon frequent the rocky cliffs. Watching the sun rise over Lake Nakuru is a special experience. As the park is so small it is easy to explore it in a day.
Website: www.kws.org
Admission: US$80 (adults), US$40 (children and students). There may also be a fee levied per vehicle. There are concessions for residents and citizens of Kenya.