Tsavo National Park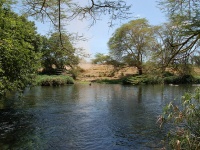 The vast Tsavo National Park is only an hour's drive from Mombasa along the main highway to Nairobi, and for administrative purposes is divided into the East and West. Covering 8,422 sq miles (21,812 sq km), the park is home to giraffe, buffalo, antelopes, monkeys, many exotic birds and Kenya's largest herds of elephant. The elephant often look startlingly red, covered in the dust and mud of the region's ruddy soil. Visitors are also likely to see rhinos - after being virtually wiped out by poachers in the 1980s their population now numbers almost 200; most are found in the Ngulia Rhino Sanctuary. Poaching has now practically been eliminated and the elephant population is also increasing; there are now around 5,000 animals, up from 3,000 in 1985, but still short of the 25,000 that are estimated to have roamed the park in the 1960s. Another exciting attractions is an observation tank in one of the park's pools from which visitors can get a close-up view of hippos, crocodiles and tropical fish in their natural habitat. Some of the roads in the park are in bad condition and it can be difficult driving but if you head out on organised game drives there'll be no problem.
Website: www.kws.org
Telephone: 043 300 49
Admission: US$65 (adults), US$30 (children and students). There are concessions for residents and citizens of Kenya.