That Luang (Royal Stupa)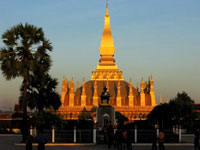 Royal Stupa at Sunset © Oliver Spalt
The Royal Stupa is a symbol of Buddhism and Lao rule, and is Laos' most important religious building. A wonderful sight for tourists in Vientiane to behold, the dazzling golden temple and its spire are visible from afar. Locals claim that if you have not visited That Luang, you have not visited Laos. The base of the stupa has walkways and stairs connecting the different levels, designed for the faithful to climb. Each level has different architectural features pertaining to Buddhist doctrine. Worshippers stick balls of sticky rice to the walls as a mark of respect to the spirit of King Setthathirat, who built the shrine in 1566 and whose statue stands in front of the temple. The effects of the setting sun on its golden surface are stunning. There is a lot to see in the area and it is best to have a local guide to explain the significance of the site. Paying entrance only allows access to the base around the stupa. The view from the other side of the walls, however, is just as good and many prefer not to pay. The three temples that surround it are free and the golden, reclining Buddha statue does not require an entrance fee, either. It is best to get to the site early, before the tour buses arrive.
Address: That Luang Village, Xaysettha District, Vientiane
Telephone: +856 21 454984
Opening times: Tuesday - Sunday: 8am to 12pm; 1pm to 4pm. Closed on Mondays.
Admission: LAK 5,000