Wat Xieng Thong (Golden City Temple)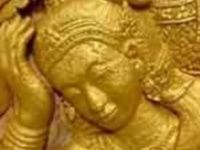 The most enchanting monastery in the country, and probably its most talked-about tourist attraction, is the magnificent Golden City Temple at the tip of Laos' peninsula. The graceful, sweeping tiled roof of the main temple is its most impressive feature and the walls are decorated with stenciled gold designs depicting many different traditional tales and, at the rear, there is a splendid coloured glass mosaic illustrating the 'tree of life'. In the peaceful atmosphere of the compound garden are several shelters, housing rare Buddha images and the gilded royal funerary carriage. If you visit too many temples in Laos you may get tired of them as many of them are very similar; it is best to visit only a few and only the best and general consensus is that if you only explore one temple in Laos it should be this one. Bring a guide book or hire a local guide so that you get an idea of the significance of what you are seeing. In the evening, the light reflects beautifully off the glass and gold of the walls and the monks are called in to prayer by drums.
In early 2013 some restoration work is in progress but this doesn't really hamper the experience; in fact, if you are lucky, you can watch the monks delicately restoring the art work on some of the buildings.