Plain of Jars (Phonsavan)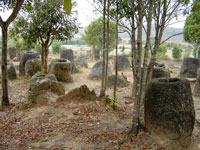 The mysterious Plain of Jars in the Xiang Khouang province is an unusual sight, and a must-visit tourist attraction for travellers to Luang Prabang. Hundreds of huge solid stone jars lie scattered about the landscape, some weighing up to six tonnes and measuring about six feet (2m) in length. They are believed to be over 2,000 years old, although their origin and function is unknown. Numerous theories and legends have been fashioned - one such legend states that they were made to ferment rice wine to celebrate a victorious battle against a wicked chieftain in the 6th Century; while other theories claim they were used as sarcophagi, or funerary urns. They are divided into five major groups, with Thong Hai, or Site 1, the largest and most easily accessible site. The jars lie amid thousands of unexploded mines left behind by the war, and as a result only Sites 1, 2 and 3 are open to visitors; the rest are considered too dangerous, and visitors should heed warning signs and keep to well-worn paths. Many guesthouses in the town of Phonsavan offer tours to the sites. While you're in Phonsavan be sure to visit the Mines Advisory Group (MAG) to learn about the clearing of unexploded bombs in the area and throughout Laos.
The site is situated several kilometres southeast of Phonsavan, a 30-minute flight from Luang Prabang. You can either hire a 4X4 or a small tuk-tuk for the day, with a driver/guide; or, for the adventurous, it is possible to hire a motorbike and drive out to the sites yourself. Sites 1 and 2 are well signposted and the third one is easy to find if you pay attention. The drive out to the sites is really scenic and the people living along the road are generally friendly and helpful.