The Fortress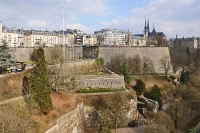 The mighty fortress established by Count Siegfried atop the Rock of Bock in 963 eventually became a citadel with three girdles of battlements, the inner one fortified with bastions, and the other two containing a total of 24 forts along their length.
As the centuries passed, the stone cliff foundations underneath the castle were excavated to form a network of 14 miles (23km) of underground tunnels, called casemates, where thousands of soldiers could shelter and workshops for artillery and arms, kitchens, bakeries and slaughter-houses could be housed.
In 1867, the Treaty of London declared that it be demolished after centuries of sieges and battles. Despite this, several sections of the fortress still remain, and the subterranean casements are open for viewing. Visitors can also enjoy a sound and light tour on the history of the castle.
The best way to view the remaining parts of the fortifications is on foot, strolling through the cobbled streets of the old town. Visitors can get a map from the tourist office (on the Place d'Armes). Although the casements officially open in March, they sometimes open later in the year without any warning. Visitors should check whether they are open before visiting.