Grand Ducal Palace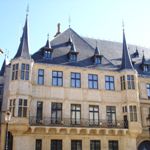 Grand Ducal Palace ©
The city residence of the Grand Ducal family is right in the heart of the old town, and is surprisingly unpretentious, recognisable more by the fact that there are sentry boxes and determined looking guards outside, than for any other feature. The building is, however, aesthetically very pleasing, with an Italian Renaissance facade. It features ochre yellow stone decorated with spires and railings, overlooking a paved pedestrian square. It was originally the site of a medieval town hall that was destroyed by a gunpowder explosion in 1554, and rebuilt 20 years later. Those with an eye for architecture will be able to tell that the palace was built over various periods - an annex to the building was built in 1859 and is now the seat of the Chamber of Deputies. Most of the structure dates back to the 16th-century. Guided tours are available in July, August and the first few days of September, by arrangement with the Luxembourg City Tourist Office, but for the majority of the year the palace can't be explored by visitors and is simply an interesting landmark to pass by and photograph, particularly as it is situated in such a pleasant part of town. Passersby should look out for the Chocolate House Cafe opposite the palace, which is a great place to grab some refreshments.
Address: 17, rue du Marché-aux-Herbes
Telephone: 22 28 09
Opening times: The palace can be visited on a guided tour between 18 July and 2 September.