The National Museum for History and Art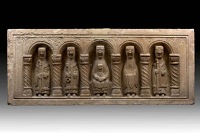 Moyen relic © www.mnha.public.lu
This museum was recently substantially refurbished and contains some major archaeological finds from Luxembourg including artefacts from the Gallo-Roman period and the Middle Ages, which are displayed in underground galleries. The collection covers the history of Luxembourg since the first evidence of human habitation, and it is vast, covering a wide array of topics. Exhibitions of fine arts, modern art, medieval artefacts, coins, medals and arms are all on display. The collection also includes exhibits on local culture and folklore, and interesting photographs demonstrating how the city has changed through the decades. The museum regularly hosts workshops and other events and displays temporary exhibitions covering a wide range of topics. There is a cafe at the museum for refreshments - with an emphasis on healthy, organic meals - and during summer it has a sunny terrace for guests to enjoy. There is also a small gift shop for mementoes and souvenirs. Some renovations and reinventions are still underway and some sections of the museum may be closed as a result. To avoid disappointment visitors should check the website in advance for notifications of these closures.
Address: Marché-aux-Poissons (Fish Market)
E-mail: musee@mnha.etat.lu
Website: www.mnha.public.lu
Telephone: 47 93 30-1
Transport: Bus 19 or 20 to Kasinosgaass stop
Opening times: Tuesday to Sunday 10am to 6pm.
Admission: €5 (adults); free for children under 18.