Luxembourg American Cemetery and Memorial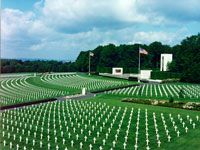 Hamm Cemetery © American Battle Monuments Commission
In a silent forest clearing near the village of Hamm, a few miles east of Luxembourg City, lie the graves of more than 5,000 American soldiers killed during World War II, when the Grand Duchy of Luxembourg became a battleground in the Allies' last bid for victory on the Western Front.
One of the graves is that of the legendary commander, General George Patton, who died in a traffic accident just after the war. There is a striking central monument to the dead, and some maps detailing the Allied progress through Europe. There are also lists of those who went missing during the war and never found.
The cemetery has become a place of pilgrimage and homage, maintained immaculately by members of the American Battle Monuments' Commission. The lines of white crosses are a sobering and moving sight and the cemetery will be of interest to patriotic Americans and anybody with an appreciation for military history.
Unlike many cemeteries the world over, the Luxembourg American Cemetery closes each day at 5pm. Not far away, at the village of Sandwieler, is a German war cemetery with some 10,000 graves. While the American Cemetery glorifies the sacrifice of its soldiers, the German equivalent gives more of a sense of the horror and futility of war.