Clervaux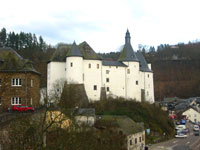 Clervaux Castle © Donar Reiskoffer
A 12th-century castle overlooks the village of Clervaux, located in the heart of the Ardennes Mountain region 30 miles (50km) north of Luxembourg City. A Romanesque church with twin spires and a large Benedictine monastery completes this idyllic setting.
The castle houses three small museums, including one that features a collection of World War II memorabilia from the Battle of the Bulge. Another room is dedicated to the Luxembourg Holocaust victims, its walls lined with mementoes of Luxembourgers who died in concentration camps. The castle often closes without notice so it is best to confirm before making the trip.
Behind the castle a road leads uphill to the St Maurice Abbey, built in 1910, where the Benedictine monks sometimes hold Gregorian chant concerts. There is a church service every morning at 10.30am at the abbey.
The town is picturesque and has numerous appealing restaurants and cafes, as well as good hotels. It also has a charming little shopping district. Clervaux is easily accessible by train and is a popular excursion from the capital. Two days will be more than enough to explore the little town and its attractions.
Website: www.tourisme-clervaux.lu