Echternach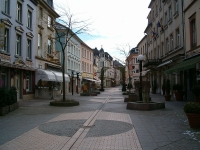 Echternach © Steven Lek
The beautiful town of Echternach lies on the border between Germany and Luxembourg on the banks of the Sûre River, and is widely acknowledged as the oldest town in the country. It boasts a famed abbey, founded in the 7th-century by St Willibrord, whose remains are contained in a magnificent white marble sarcophagus in the crypt of the Basilica.
There are also three museums in the town, one dedicated to the history of the abbey, another showcasing ancient artefacts, and a third detailing rural architecture. Echternach also boasts the remains of an ancient Roman villa, thought to have been the largest of its kind north of the Alps.
Apart from these attractions, Echternach is perhaps best known for its unique annual event: a centuries' old traditional dancing procession takes place each Whit Tuesday, attracting thousands of pilgrims and spectators.
Although the charms of the town itself are undeniable, Echternach also attracts visitors because of its stunning natural surroundings. The town is a base for hikers and nature lovers wishing to explore the area known as the Mullerthal.
The Mullerthal is a fascinating landscape of curious sandstone rock formations, waterfalls, creeks, springs and forests. Also known as 'Little Switzerland', this region is criss-crossed with hiking trails and dotted with picturesque villages.