Friday Mosque (Masjid Jamek)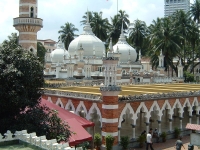 Masjid Jamek, the Friday Mosque, is located where the Gombak River flows into the Klang River and with its palm trees and curved steps leading to the water's edge, it is a haven of peace and tranquillity set among the buzz and rush of modern Kuala Lumpur. The mosque is situated on the spot purported to be where the founders of Kuala Lumpur fist set foot. The design was inspired by Mogul mosques in northern India. Cupolas and minarets top the brick walls and arched colonnades. As with all mosques, a visit calls for conservative dress and the removal of shoes; the mosque staff at the entrance supply women and men with appropriate attire for a mosque visit if they have not come prepared.
If you only visit one mosque in Kuala Lumpur the Friday Mosque is probably the best option, but the National Mosque is also worth investigating. A modern contrast to the Friday Mosque, the National Mosque was completed in 1965 and remains the largest mosque in Southeast Asia - the vast main prayer hall can accommodate up to 10,000 people. Many of the city's Malay office workers congregate here for the Friday afternoon prayers. The impressive 18-point star-shaped dome represents the 13 states of Malaysia and five central Pillars of Islam. Entry is only permitted once prayers have been concluded. Robes can be borrowed from the desk at the mosque entrance.
Address: Jalan Tun Perak
Telephone: Friday Mosque: +60 (0)3 2691 2829; National Mosque: +60 (0)3 2693 7784
Transport: Friday Mosque: Masjid Jamek LRT station. National Mosque: LRT to Pasar Seni LRT station.
Opening times: Friday Mosque: Saturday to Thursday 8:30am to 12:30pm and 2:30pm to 4pm; Friday 8:30am to 11am and 2:30pm to 4pm. National Mosque: daily 9am to 6pm, except Friday during prayers from 2:45pm to 6pm.
Admission: Free