Perdana Botanical Gardens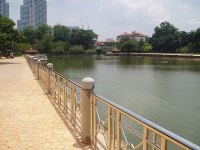 Perdana Gardens © Chongkian
These beautiful gardens, established in 1888, form the green belt of Kuala Lumpur, and the lakeside loveliness with a backdrop of skyscrapers is reminiscent of New York's Central Park. The lush vegetation surrounds a vast lake, with a number of romantic bridges and plenty of space to relax, read a book, go for a walk or jog, or socialise. Visitors can take a leisurely boat cruise to enjoy views of the gardens from the water. There are numerous attractions within the gardens, which incorporate the National Monument, Butterfly House, Bird Park, Orchid and Hibiscus gardens, and Malaysia's Parliament House situated at the northern end. There are wonderful playgrounds for little ones and if you are travelling in Malaysia with children a jaunt to the gardens is the perfect way to let them blow off some steam. The water and shade make the Perdana Botanical Gardens (formerly known as the Lake Gardens) a cool refuge from the humidity and crowds of the city, and for those interested in the indigenous plant life there is plenty to see. There are numerous restaurants fringing the gardens but the best option is to pack a picnic and spend a few hours in some green nook.
Address: Jalan Perdana
Website: www.klbotanicalgarden.gov.my
Telephone: +603 2617 6404
Opening times: Daily 7am to 8pm.
Admission: There's a small admission fee for the Butterfly House, Bird Park, and Orchid and Hibiscus Gardens on weekends.