Melaka (Historic City)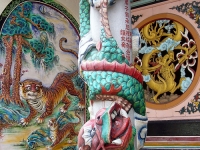 The fascinating seaside city of Melaka (Malacca) preserves the historic convergence of Chinese and European cultures. Its strategic position on the Straits of Melaka brought a tide of trade with China, India, Siam and Indonesia. Colonial powers wrestled for control, and much of the Portuguese influence from the 1500s is cemented in its architecture. The most notable cultural presence today is predominantly Chinese. Chinese merchants continue to ply their trades in the tradition of their forefathers. Open-air markets burst with colourful fruit, vegetable and fish produce. The oldest Chinese temple in Malaysia, Cheng Hoon Teng, together with the vast Chinese cemetery, support a thriving industry entirely dedicated to the deceased.
The merging of Chinese and Malay cultures has produced a unique ethnic group found in Melaka, the Baba-Nyonya. The remarkable lifestyle of this micro-culture can be explored in the dedicated Baba-Nyonya Heritage Museum. Jonker Street is an attractive thoroughfare, almost always strung with traditional Chinese lanterns, which often hosts night bazaars and festivities on weekends. Trips on the Malazza River are popular, and there are many historic buildings to explore, including the Stadthuys, which was once the seat of the Dutch administration and now houses a history museum. There are also some interesting ruins on St. Paul's Hill.
Website: www.melaka.gov.my
Telephone: +60 (0)6 233 3333 or (0)6 281 4803 or (0)6 293 3913 (tourist information)