Tunku Abdul Rahman National Park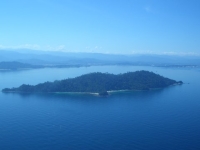 Pulau Gaya © Oscark
Five pristine islands comprise this 4,929-hectare (12,100 acre) park. The islands are: Gaya, Mamutik, Manukan, Sapi and Sulug. Each is an idyllic composition of white beaches and offshore coral reefs hugging inland forests teeming with animal life. Visitors are welcome to camp, trek, swim and snorkel around each of these and they are all incredible destinations.
Gaya Island is the largest of the five; it has been a forest reserve since 1923 which has helped to preserve the dense tropical forest that covers it, traversed by great hiking trails. There is a legendary beach in Police Bay and well-preserved coral reefs for divers and snorkelers. There are two luxury resorts for accommodation.
Manukan Island is the second largest and the most popular with Malaysian locals. There are good beaches on the south coast and the eastern tip of the island, and it is the most developed of the chain with plenty of tourist facilities and fun activities on offer.
Mamutik Island is the smallest, but still has its share of loveliness, with wonderful beaches and coral reefs. There is very limited accommodation but for those few who do stay on the island it is a tranquil and beautiful retreat.
Sapi Island is very popular with foreign tourists and can get quite crowded during the day - it is in demand for its white beaches and the great diving and snorkelling available off its shores. There is accommodation and good tourist facilities but after the last ferry departs in the evening it too becomes tranquil.
Sulug Island is the most pristine and untouched of the chain, and the furthest from the mainland. It is the ideal destination for those seeking peace and quiet. There are good reefs off the south of the island.
Address: Sabah, Malaysia
Website: www.sabahparks.org.my