Sepilok Forest Reserve and Orangutan Sanctuary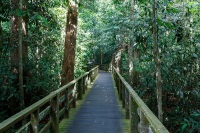 This vast equatorial rainforest is an enchanting destination that is best explored through self-guided trails. The most interesting diversion from these trails is provided by a trip to the Sepilok Orangutan Sanctuary. Here orangutans that have been rescued find temporary shelter and rehabilitation before their re-release into the forest; the centre was set up in 1964 to raise orphaned baby orangutans. The sanctuary gives tourists and researchers the priceless opportunity to observe and interact with the animals in their natural habitat. Visitors are restricted to the walkways but the orangutans often come over to interact. The orangutans are fed twice daily on the feeding platform, at 10am and 3pm, and it is a good idea to time your visit to witness this. Photography is permitted but there is an extra charge to bring in a camera.
Another amazing attraction in the Sepilok Forest Reserve is the Sandakan Rainforest Discovery Centre (RDC), a remarkable place which allows visitors to explore the jungle canopy on a series of raised walkways and platforms. It is an environmental education facility and the canopy tours system is the only one of its kind in Malaysia. For nature lovers - particularly bird watchers and those interested in tropical flora and fauna - this is a must.
Website: www.sabahtourism.com