Basilica dei Frari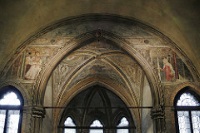 Basilica dei Frari © Julia Kostecka
This great Gothic Franciscan church was constructed in the 14th century, and is primarily known as the burial place of Titian and the Venetian sculptor Antonio Canova. Titian's tomb in the south aisle watches over the large marble pyramid created for Canova. The interior of the church is adorned with the works of a number of famous artists. These include Donatello's St John the Baptist, Giovanni Bellini's triptych of the Madonna and Saints, Titian's famous Assumption of the Virgin and his Madonna of Case Pesaro. There is an audio guide available for a small additional cost, and for those interested in the art and architecture this is a great addition to a visit. Look out for lovely little details, like the individually designed choir stalls.
Venice is packed with impressive churches and it can be rather hard to select which are worth seeing - the Basilica dei Frari (St Mary of the Friars) is well worth the effort for art lovers and anybody interested in Gothic architecture. The church receives rave reviews from tourists and is consistently one of the top rated attractions in Venice according to visitor reviews. Despite this, the church is seldom crowded and it is usually possible to soak up the special atmosphere and incredible art work in peace and silence.
Address: San Polo 3003
Website: www.basilicadeifrari.it
Telephone: +39 041 272 8611
Opening times: Visiting hours of the Basilica on weekdays 9am to 6pm; Sundays from 1pm to 6pm.
Admission: The entrance fee for the visit to the masterpieces of the basilica is €3