School of St Roch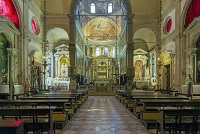 School of St Roch Interior © Didier Descouens
A 'scuola' in Venice was a mixture of guild and religious fraternity, where members paid annual fees to support fellow members and to decorate the school's premises. The School of St Roch is known for the canvasses of Jacopo Tintoretto that adorn its interior. Tintoretto was commissioned to decorate the School in 1564, and dedicated 23 years to this task. The paintings are arranged in chronological order that can be followed by beginning on the second floor in the Sala dell'Albergo. Notable among his works are the scenes from the Life of the Virgin and the Crucifixion. San Rocco, as the school is known, is one of the top ranked attractions in Venice on tourist review sites and a visit is guaranteed to impress. Although much of the amazing art inside is not labelled or accompanied by much information there is a good audio guide included in the admission price which tells you all you need to know. Many of the rooms are full of mirrors to help visitors see the intricate detail of the art which covers the ceilings and walls without craning their necks. The interior is ornate and quite overwhelming in its artistry and you would be hard put to find somebody who doesn't rave about the experience of exploring San Rocco.
Address: Campo San Rocco, San Polo 3054
Website: www.scuolagrandesanrocco.it
Telephone: +39 041 523 4864
Transport: San Toma stop on the Vaporetto lines, or take the train to St Lucia railway station.
Opening times: The Scuola Grande is open daily from 9:30am to 5:30pm, except on New Year's Day, Easter and Christmas Day. The church is also open daily from 9:30am to 5:30pm. Holy Mass is generally at 8am on weekdays and 11am on Sundays and religious festivals.
Admission: €10 (with concessions available). Entry to the church is free.