Peggy Guggenheim Collection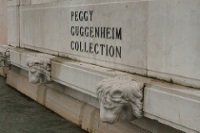 Peggy Guggenheim collection © Julie Mac
The Peggy Guggenheim collection is housed in the former Palazzo of the wealthy American heiress, the Palazzo Venier dei Leoni, situated on the Grand Canal, and has become one of the most illustrious collections of modern art in Italy. It spans the artistic movements of Cubism, European Abstraction and Surrealism, with notable works by Brancusi, Marino Marini, Kandinsky, Picasso, Magritte, Rothko, Max Ernst, Dali, Jackson Pollock and many more. The impressive permanent collection is further enriched by temporary exhibitions of high quality. Guggenheim built up her collection between 1938 and 1947, and bought the Palazzo Venier dei Leoni in 1948, where she lived until her death in 1979. This exciting, prestigious and often bizarre collection is a great departure from the overwhelming amount of Gothic, Byzantine and Renaissance art and architecture in Venice, and exploring the museum is a fun and atypical sort of way to spend a few hours in the city. There are wonderful views of the Grand Canal from the terrace and there is a good little gift shop and popular cafe at the palazzo. The small outdoor area showcases a number of sculptures and has some pleasant spots to rest and take in the surroundings.
Address: Palazzo Venier dei Leoni, 701 Dorsoduro
Website: www.guggenheim-venice.it
Telephone: +39 041 240 5411
Opening times: Open daily 10am to 6pm. Closed Tuesdays.
Admission: €15. Concessions are available