Duomo di Milano (Milan Cathedral)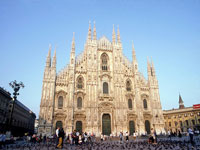 The looming Duomo, one of the world's largest Gothic cathedrals, presides over the Milanese Piazza that bears its name. Its construction began in 1386 and continued sporadically until Napoleon ordered its completion in 1809. Its lengthy creation bestowed on it 3,400 statues, 135 spires and 96 gargoyles. It is best visited in full sunshine when the interior is illuminated by the colourful mosaic of its stained glass windows. The church is a five-aisled cruciform seating 40,000 worshippers. The 16th-century marble tomb of Giacomo de Medici lies in the southern transept, and lying buried at its heart is St Charles Borromeo, the cathedral's most important benefactor. Every year in May and September a nail from the cross of Christ is displayed to worshippers, retrieved from its resting-place by the bishop who is hoisted to the nivola to reach it. Across the piazza, in the Palazzo Reale, is the Museo del Duomo that displays the treasures from the cathedral. It also houses the Museo d'Arte Contomporanea, showcasing a collection of Italian Futurist art. The cathedral is the centre of Milan, both literally and figuratively, and the square is a wonderful meeting place and landmark - the city's roads radiate out from the square and it makes a glorious starting point for explorations of Milan.
There are admission charges for certain parts of the cathedral.
Address: Piazza del Duomo 18