La Scala Opera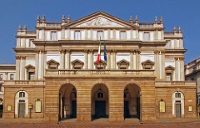 La Scala © JohnPickenPhoto
This world-famous opera house rests on the site of the Church of Santa Maria alla Scala, its namesake. For opera fanatics seeing a performance at La Scala is the experience of a lifetime. Check the official website below to see what is showing during your visit. Ticket prices vary depending on seating and show but should be booked far in advance.
The La Scala Museum is also well worth a visit and provides a wealth of mementos from the opera house dedicated to the nation's beloved composers and performers. These include Rossini, Puccini and Toscanini. Two halls are devoted to Verdi alone, and contain memorabilia such as the spinet on which he learned to play, hand-written scores and the baton given to him after the momentous reception of his best-loved work, Aida. There are also exhibitions featuring some of the elaborate costumes worn in the theatre over the years, and mementoes from the plays and performances. The museum is a delight for those familiar with the composers and their operas, but probably a bit dull for the uninitiated; however, if there aren't rehearsals on visitors are permitted to go into one of the boxes and see the theatre and this is thrilling for all lovers of the arts.
Address: Largo Ghiringhelli 1, Piazza della Scala
Website: www.teatroallascala.org/en/index.html
Telephone: +39 02 8879 7473
Opening times: The museum is open daily from 9am to 5.30pm (last entrance at 5pm).
Admission: Tickets to enter the museum cost €7.