Santa Maria delle Grazie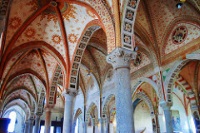 Santa Maria delle Grazie © Francesco Sgroi
The church and convent of Santa Maria delle Grazie is a UNESCO World Heritage Site and one of the most popular attractions in Milan. Located next to the church of Santa Maria delle Grazie, in the former monastery's refectory, is Leonardo da Vinci's famous painting The Last Supper (Cenacolo Vinciano) and although the church is an attraction in its own right it is this iconic painting that draws so many admirers. The fresco depicts the moment of Christ's revelation of the betrayal. Judas hovers to the right of the painting, with his hand placed protectively on the bag of silver. Scaffolding covers the bottom of the painting (an ongoing restoration project), leaving the rest in full view. Controversy has erupted over the removal of layers of corrective over-painting completed in the 18th and 19th-centuries. The painting has endured more than hot debate, however, as it managed to escape the bombing during WWII that destroyed the roof of the refectory. There are other notable art works and frescoes at Santa Maria delle Grazie and the architecture is amazing - make sure you explore the church as well as see The Last Supper. You have to book in advance to see the painting and can do so online.
Address: Piazza Santa Maria delle Grazie 2, Corso Magenta
Website: www.cenacolovinciano.org
Telephone: +39 02 8942 1146
Opening times: Open Tuesday to Sunday from 8.15am to 7.30pm. Reservations are essential, and visitors must arrive 15 minutes before their allocated time of visit
Admission: Entry to the church is free but there is a fee to see the painting.