St John's Co-Cathedral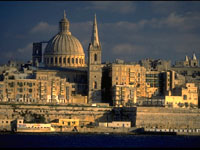 St John's Cathedral, Valetta © Malta Tourist Office
Valletta's magnificent medieval cathedral is famous for the painting by Caravaggio, which hangs in its oratory, and the 369 inlaid mosaic marble tombstones that cover its floor. Each tombstone depicts the lives of the Grand Masters of the Order of St John, who are buried beneath. The façade is rather severe and militaristic, but inside the cathedral is lavishly splendid in the grandest tradition of high Baroque, with every inch of wall covered by carving, while the vaulted ceiling sports paintings depicting the life of St John the Baptist, patron saint of the Knights. The cathedral benefitted greatly over the centuries from many donations from the Knights and their Grand Masters, and some of the most impressive works of art in the church were gifts from the order. It is still an active place of worship with frequent services, and is also used as a beautiful venue for cultural events. Ecclesiastical services on Sunday and Catholic Feast Days occur at 7.15am, 8am, 9.15am, 11am, 12pm (between October and June), 5.30pm (winter), 6pm (summer); and on week days at 7.30am and 8.30am. The stunningly ornate cathedral is an amazing sight and a must for tourists in Malta; the experience is greatly enriched by taking a guided tour or renting an audio guide.
Address: Republic Street
E-mail: info@maltachurch.org.mt
Website: www.stjohnscocathedral.com
Telephone: 2122 0536
Opening times: Monday to Friday 9:30am-4:30pm; Saturdays 9:30am-12:30pm.
Admission: €6 (adults), free for children under 12. Other concessions available.