Palace of the Grandmaster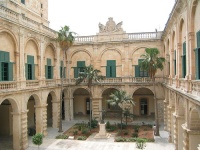 The Grandmaster's Palace, built around 1571, today serves as the office of the President and seat of the Maltese Parliament. The palace is a treasure house of art, from the unique collection of Gobelin Tapestries to frescoes depicting the Great Siege of 1565 by Perez d'Aleccio that cover the walls of the Halls of St Michael and St George. Visitors can also view the armoury and state apartments, which are adorned with friezes describing the history of the Order of St John.
Address: Palace Square, Republic Street
Telephone: 56 221 221
Opening times: Monday to Friday 9am-5pm.