National Museum of Archaeology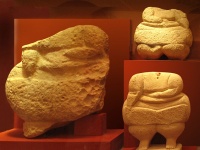 Figurines © Hamelin de Guettelet
The archaeological museum on Republic Street, Valletta, is housed in one of the inns of the Knights of St John, the Auberge de Provence. The museum's focus on Malta's prehistory includes displays such as the reconstruction of prehistoric remains found at Hypogeum. Items such as pottery, sculptures, statuettes, stone implements and jewellery from the prehistoric, megalithic and temple-building periods are featured, as well as some Punic and Roman tomb furniture. All the exhibits were found on excavations across the Maltese islands and the age of some of the artefacts is staggering. It is fascinating to see the various items recovered from the ancient temple complexes in Malta, and a visit to the museum nicely contextualises these ancient attractions. It is a small but impressive museum, although its wonders will only be fully appreciated by those interested in archaeology; those who are easily bored by ancient artefacts, like young children, can probably give it a skip. The collection is well-maintained and labelled and the exhibition is in chronological order. There is no museum bar or restaurant but refreshments can easily be found in the area. Unfortunately there is no museum shop.
Address: Charles Borg, Auberge de Provence, Republic Street, Valletta
Website: www.heritagemalta.org
Telephone: 21 239 375
Transport: On all bus routes
Opening times: Daily 9am-7pm.
Admission: €5 (adults), €2.50 (children 6-11). Other concessions available.