Lascaris War Rooms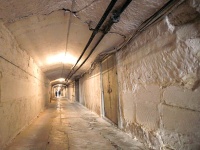 Lascaris War Rooms © Times of Malta
Valletta suffered a great deal of damage in bombing raids during World War II and the island has always had a strategic military importance far out of proportion to its size. The Lascaris War Rooms are housed in a 17th-century underground complex of tunnels and chambers that once housed the secret War Headquarters from where the defense of Malta was conducted during the war. Some of the most famous battles fought in the Mediterranean during the war were coordinated and planned from this headquarters. The complex has been restored and now acts as a museum, with displays including charts, models and dioramas; a paradise for anybody interested in military history. The War Rooms will be integrated into the Military Heritage Park, which is currently under construction and will showcase some 500 years of Malta's military history. It is fascinating to see all the old wartime paraphernalia and explore the once Top Secret military operating rooms. The guides are enthusiastic and well-informed volunteers who greatly enrich the experience. Tours are conducted in English and include a short film. The tour takes about 75 minutes and visitors are usually allowed to wander around the complex at their leisure afterwards.
Address: Lascaris Ditch, Valletta
Website: www.lascariswarrooms.com/
Telephone: 2123 4936
Opening times: Daily 10am-5pm.
Admission: €10 adults, €5 children under 16. Other concessions available.