Malta Experience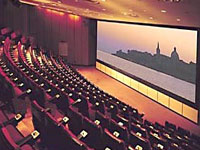 The Malta Experience © www.themaltaexperience.com
A dramatic presentation that illustrates the history of Malta, from Neolithic to modern times, can be enjoyed at the Mediterranean Conference Centre at St. Elmo's bastion in Valletta. The building itself has been impressively restored, having been built by the Knights in the 1500s as a hospital. The wards, which are great sweeping halls with vaulted ceilings and marble floors, now serve as exhibition areas. A modern theatre has been added where the Malta Experience audio-visual show is offered in 17 different languages. The show is a sweeping expose of 7,000 years of history covering the original stone-age inhabitants, the Phoenicians, the Romans, the Knights of St John and the nation's modern history. It is as entertaining as it is educational. In fact, the Malta Experience is a great way to begin a holiday in Malta as it provides an overview of the archipelagoes' dramatic history which greatly enriches the sightseeing to come, particularly as not all of the impressive ancient sites on the islands are provided with detailed information for tourists. The documentary also offers great insight into the Maltese culture and people. The show is immensely popular and more than four million visitors have seen it since its opening; it is about 45 minutes long.
Address: Mediterranean Conference Centre, Mediterranean Street, Valletta
Website: www.themaltaexperience.com
Telephone: 2124 3776 or 2125 1284
Transport: Bus 98
Opening times: Show times: Monday to Friday every hour from 11am to 4pm, Saturdays and Sundays 11am to 1pm (until 2pm from October to June)
Admission: €10 adults, €5 children under 14. Other concessions available.