Malta Experience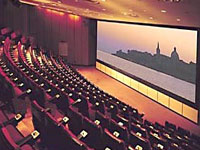 A dramatic presentation that illustrates the history of Malta, from Neolithic to modern times, can be enjoyed at the Mediterranean Conference Centre at St. Elmo's bastion in Valletta. This building itself has been impressively restored, having been built by the Knights in the 1500s as a hospital. The wards, which are great sweeping halls with vaulted ceilings and marble floors, now serve as exhibition areas. A modern theatre has been added where the Malta Experience audio-visual show is offered in 10 languages.
Address: Mediterranean Conference Centre, Mediterranean Street, Valletta
Website: www.themaltaexperience.com
Telephone: 2124 3776 or 2125 1284
Transport: Bus 98
Opening times: Show times: Monday to Friday every hour from 11am to 4pm, Saturdays and Sundays 11am to 1pm (until 2pm from October to June)
Admission: €10 adults, €5 children under 14. Other concessions available.