Hal Saflieni Hypogeum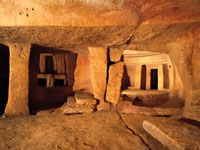 Hypogeum © Malta Tourist Authority
The Hypogeum, just southwest of the Three Cities in the suburb of Paolo, is a labyrinthine complex of man-made chambers hewn out of limestone, extending about 36ft (11m) below the surface. Experts believe it was used as a burial site and temple by Neolithic man, who used antlers and stone picks to carve out the labyrinth in semi-darkness more than 5,000 years ago. It is comprised of several interconnecting chambers on three distinct levels and was used over a span of many centuries, with the oldest remains at the site dating back to about 4000 BC. The site has been declared a UNESCO World Heritage site. Archaeologists have recovered numerous statues, amulets, figurines and vases, many of which are on display in the Archaeological Museum in Valletta. The remarkable site has been open to the public since 1908 and the droves of visitors have unfortunately had a negative impact on the ancient environment, so that now only eight tours a day are conducted and only 10 people are permitted in each tour. Tours are often booked up weeks in advance so tickets should be booked well in advance to avoid disappointment. The tours are about an hour long and audio guides are provided.
Address: Burial Street, Paola
Website: www.heritagemalta.org
Telephone: 2180 5018/9
Opening times: Daily 9am-11am and 1pm-4pm (only 10 visitors per hour).
Admission: €20 (adults), €12 (children 6 - 11). Advance booking required, other concessions available.