Hal Saflieni Hypogeum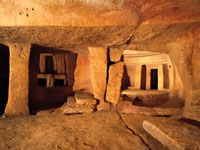 The Hypogeum, just southwest of the Three Cities in the suburb of Paolo, is a labyrinthine complex of man-made chambers hewn out of limestone, extending about 36ft (11m) below the surface. Experts believe it was used as a burial site and temple by Neolithic man, who used antlers and stone picks to carve out the labyrinth in semi-darkness nearly 5,000 years ago. The site has been declared a UNESCO World Heritage site. Archaeologists have recovered numerous statues, amulets, figurines and vases, many of which are on display in the Archaeology Museum in Valletta.
Address: Burial Street, Paola
Website: www.heritagemalta.org
Telephone: 2180 5018/9
Opening times: Daily 9am-11am and 1pm-4pm (only 10 visitors per hour).
Admission: €20 (adults), €12 (children 6 - 11). Advance booking required, other concessions available.