Hagar Qim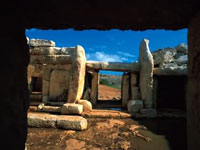 Hagar Qim © Malta Tourist Authority
The prehistoric temple complex discovered in 1839 at Hagar Qim, in western Malta, dates from about 3,800 BC, and boasts some of the oldest known human structures in the world. The Hagar Qim and nearby Mnajdra ruins are close to the village of Qrendi, about nine miles (15km) southwest of Valletta. The megalithic temple complex carved from giant limestone slabs is adorned with carved animals and idols, sacrificial altars and oracular chambers, all fashioned with flint and obsidian tools. The largest megalith is 23ft (7m) high and weighs about 20 tons. The complex was built during the late Neolithic, around 5,000 years ago. It should be noted that although the ancient ruins of Malta are generally called 'temples', very little is actually known about the purpose of these buildings. Many of the relics recovered from the Hagar Qim site, including the famous 'fat lady' statues, are on display in the National Museum of Archaeology in Valletta. Unlike some of the other temples on Malta, Hagar Qim has an impressive Visitor's Centre that offers plenty of background information through interesting interactive displays. There are shelters over the complex to provide protection from the elements, but this hardly detracts from the otherworldly experience of exploring the ruins.
Address: West of the village of Qrendi
Website: www.heritagemalta.org
Telephone: 2142 4231
Transport: Bus 35
Opening times: Daily 9am-5pm.
Admission: €9 (adults), €4 (children 6-11). Other concessions available.