The Citadel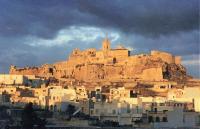 A good place to begin exploring Gozo is the Citadel, or Citadella, a historic castle or fortified village right in the centre of Victoria. The area that is now the Citadel was first fortified around 1500 BC and was later developed by the Phoenicians and then the Romans. Up until the 18th century it was the only fortified refuge against attack for Gozo's inhabitants. From the ramparts of this fascinating place visitors can admire sweeping views of the whole island. The Citadel houses a number of attractions and makes for an exciting visit.
The Gozo Museum of Archaeology, found just inside the walls of the Citadel, in a 17th-century building that was originally the Town Hall, provides great insight into the history of the island. The museum illustrates the cultural history of Gozo from prehistoric times to the early modern era, with a collection presented chronologically which covers the Neolithic Period, the Phoenicians, the Romans, Medieval times and the emergence of the Knights of St John. The Citadel also houses the spooky Old Prison, which is also now a museum. One of the Citadel's greatest treasures is the beautiful 17th-century Baroque cathedral.
The Citadel could easily keep tourists occupied for a few hours; the views alone justify a visit.