Ggantija Temples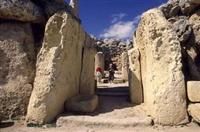 Two massive megaliths were carved into temples by the pre-Phoenician Gozitans somewhere between 4,100 and 2,500 BC, and now stand on the island as mysterious monuments to a bygone age. Legend has it that they were transported to the island by a giantess called Sansuna, hence the name of the site, Ggantija, which means 'giant'. Large stone balls in the area, however, have led archaeologists to conclude that the massive blocks were rolled into place atop these. The two temples have a common façade but each has a separate entrance; one is larger than the other. It is believed both originally had roofing made of wooden beams, and that sacrifices of animals were made in the temples during rituals. The temples, along with other similar temples on the main island of Malta, have been documented as the oldest free standing structures in the world.
Address: Temples Street, Xaghra
Website: www.heritagemalta.org
Telephone: 2155 3194
Transport: Bus 64 or 65 from Victoria
Opening times: Daily 9am-5pm.
Admission: €5 (adults), €2.50 (children 6-11). Other concessions available.