Blue Penny Museum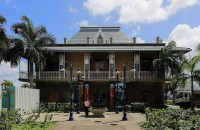 Blue Penny Museum © Martin Falbisoner
The lively Caudan Waterfront in Port Louis features the Blue Penny Museum, which is primarily devoted to Mauritian art and history, but whose place of pride is given to two of the rarest stamps in the world: the Mauritian 1847 'Post Office' Penny Red and Twopence Blue, estimated to be worth more than US$1 million apiece. Mauritius was the fifth country in the world to begin issuing postage stamps, back in 1847, and some of the few remaining early island stamps are now highly valued around the world. The museum is run by the Mauritius Commercial Bank, which formed a consortium of local companies to purchase the stamps at an auction in Switzerland in 1993, and bring them home for posterity. The originals are housed in the museum but are not always on display; for preservation purposes the Blue Penny Museum also displays replicas. There is a gift shop at the museum which sells all sorts of souvenirs - the shop has some wonderful merchandise but it is relatively expensive. Tours of the museum are available and take between 30 and 90 minutes. It is a small museum and is not interactive or particularly exciting but it is well-organised and has some fascinating exhibits for visitors interested in artefacts of this sort.
Address: Caudan Waterfront, Port Louis
Opening times: Monday to Saturday 10am to 5pm.