Templo Mayor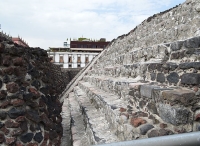 Templo Mayor © AlejandroLinaresGarcia
Templo Mayor (Great Temple) was the principal temple of the Aztecs, believed to mark the centre of the universe. It was part of the sacred complex of the ancient city of Tenochtitlan, and today it has been excavated to show the multiple layers of construction, viewed from a raised walkway with extra explanatory material available in the form of audio guides and tour guides. The temple was first built in 1375, and enlarged several times, each rebuilding accompanied by a frenzied bloody sacrifice of captured warriors to rededicate the sacred area. At the centre is a platform on which stands a sacrificial stone in front of the shrine to the tribal god, Huizilopochtli. Within the site is the excellent Museo del Templo Mayor, a museum displaying artefacts from the original site and providing an overview of Aztec civilisation. The most important display is the first artefact to be discovered on the site, the great wheel-like stone carving of the Aztec goddess of the moon, Coyilxauhqui. The entrance fee covers admission to both the museum and the archaeological site. Photography is permitted, but there is an additional charge for those wanting to take video footage. There is a book store and museum shop for those wanting to buy souvenirs.
Address: Seminario 8, Historical District
Website: www.templomayor.inah.gob.mx/english
Telephone: +52 55 4040 5600
Transport: Take metro to Zocalo. Templo Mayor is off Zocalo, to the right of the city cathedral if you face it.
Opening times: Tuesday to Sunday 9am to 5pm.
Admission: MXN 64