Palacio de Bellas Artes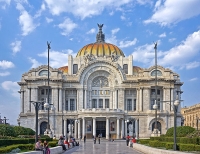 Palacio de Bellas Artes © Xavier Quetzalcoatl Contreras Castillo
Formerly a separate village, San Angel is one of the more charming suburbs in Mexico City, an exclusive neighbourhood with ancient mansions and colonial houses along cobbled streets. It is famed for its Saturday craft market in the pretty Plaza San Jacinto, which brings colour, crowds and a festive atmosphere to the area, and has excellent art and handicrafts for sale. The suburb is crammed with little restaurants and cafes, offering the city's best dining experiences, albeit expensive. There are several museums of interest, including the Studio Museum of Mexico, which boasts great exhibits on famous Mexican artists Diego Rivera and Frida Kahlo. The El Carmen complex is one of the prime attractions of the neighbourhood: El Carmen consists of a lovely triple-domed church, a former monastery, school buildings, and a museum. The monastery was founded in 1613 and the church was built by 1626. The museum is one of the most visited in the city and exhibits a number of historical artefacts from the complex, a collection of colonial era art, and a crypt area dedicated to mummies which attracts many curious tourists. San Angel is surrounded by a volcanic rock bed called the Pedregal, formed in a long-ago volcanic eruption and parts of this unusual landscape have been declared protected areas where visitors can see the endemic flora and fauna.
Website: www.conaculta.gob.mx
Telephone: +52 55 5512 2593
Opening times: Tuesday to Sunday 10am to 6pm.