Palacio de Bellas Artes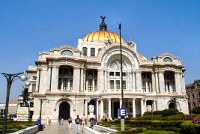 Situated at one end of the Alameda Central that was once an ancient market place and is now a large park, is the splendid white marble structure of the Palacio de Bellas Artes (Palace of Fine Arts). A concert hall and an arts centre, it houses some of Mexico's finest murals and the Art Deco interior would justify a visit all by itself. The Palacio actually houses two museums: the Museo del Palacio de Bellas Artes and the Museo de la Arquitectura. The art museum's collection includes over 6,000 paintings, sculptures and engravings ranging from 1650 to 1954 with masterpieces by prominent Mexican artists such as Diego Rivera, David Alfaro Siqueiros and Rufino Tamayo. One of the highlights of the Palacio is the theatre's stained glass stage curtain, which is lit before performances and for public viewing. The Ballet Folklorico performs here every Wednesday and Sunday and the historic white building has become the city's top venue for the performing arts. Those attending the opera should make an effort to dress up, but strict dress codes are not enforced. The cheapest seats are high up in the venue and unsuitable for anybody who doesn't enjoy heights! There is a good museum shop and a lovely cafe for a coffee break.
Website: www.conaculta.gob.mx
Telephone: +52 55 5512 2593
Opening times: Tuesday to Sunday 10am to 6pm.