Bosque de Chapultepec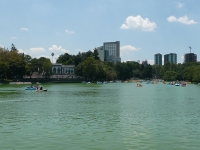 Bosque de Chapultepec © Randal Sheppard
Guanajuato is considered to be one of Mexico's colonial gems, founded around the rich silver deposits discovered by the Spanish in 1558. It is a city of history, with stories of wealthy silver barons and oppressed Indian miners, it is also the site where the cry of rebellion against the Spanish was raised and the struggle for Independence began. The city has an unusual layout, crammed into a narrow valley, with houses and streets forced into irregular positions due to the naturally hilly topography. Brightly painted higgledy-piggledy houses perch on the slopes, reached by narrow crooked alleyways of cobbled stone, hidden plazas, steep irregular stairways, underground tunnels and thoroughfares lend the city much of its charming character.
Along with its picturesque setting and unusual beauty, Guanajuato has many historical buildings and magnificent architecture, including several churches and museums, and has been declared a UNESCO World Heritage Site. The most narrow, and most visited, alley is the Callejón del Beso (Alley of the Kiss) where the balconies of the leaning houses on either side almost touch each other, a feature in the local romantic legend about furtive lovers exchanging kisses. Cultural events are an important part of the city, which hosts several festivals during the year. Every weekend the famous strolling musicians, or callejoneadas, in traditional dress, lead processions through the narrow winding alleyways, strumming, singing and telling stories to the crowds that follow.
Address: Avenida Paseo de la Reforma and calzada Ghandi, Chapultepec Park, Mexico City
Website: www.mna.inah.gob.mx
Telephone: +52 55 5553 6332/6266
Transport: Nearest subway stations are Auditorio (line 1) and Chapultepec (line 7).
Opening times: Tuesday to Sunday 9am to 7pm. Closed Mondays.
Admission: Museum: $57 (adults), children under 13 free. Free admission on Sundays to Mexican citizens. Other concessions available.