Bosque de Chapultepec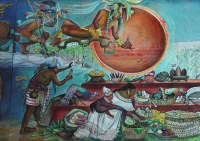 Bosque de Chapultepec is Mexico City's largest and most popular park, covering an enormous area containing lakes, a zoo and several museums, including the Museo Nacional de Antropología. One of the main attractions is the stunning Chapultepec Castle, which was the residence of the Mexican president until 1939, and features beautiful gardens and amazingly oppulent and well-preserved interiors. The park has a long avenue of enthusiastic vendors selling almost everything imaginable and there are numerous sculptures and monuments to look at. Chapultepec attracts thousands of people, especially on weekends when families come to picnic, relax in the woods and visit the museums. It is best to visit during the week if possible, to avoid the crowds, which can detract somewhat from the experience.
The huge National Museum of Anthropology is one of the largest and finest of its kind in the world, housing a fascinating collection of pre-Hispanic artefacts, from the first people in the Americas, to the Teotihuacana Empire, the Aztecs and the Mayans. Entire buildings and facades have been replicated or rebuilt within this impressive museum. Highlights include the famous Aztec Sun Stone or Calendar Stone found beneath the Zocalo (main square) in 1790, and the remarkable Monkey Cup made out of black obsidian. There are also exhibits illustrating the modern way of life in today's indigenous communities, and vendors and artists outside selling traditional food and performing traditional dances.
Address: Avenida Paseo de la Reforma and calzada Ghandi, Chapultepec Park, Mexico City
Website: www.mna.inah.gob.mx
Telephone: +52 55 5553 6332/6266
Transport: Nearest subway stations are Auditorio (line 1) and Chapultepec (line 7).
Opening times: Tuesday to Sunday 9am to 7pm. Closed Mondays.
Admission: Museum: $57 (adults), children under 13 free. Free admission on Sundays to Mexican citizens. Other concessions available.