Teotihuacan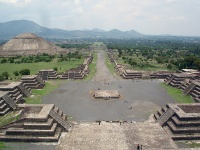 View from the Pyramide de la Luna in Teotihuacan © Jackhynes
Situated 31 miles (50km) from Mexico City, the UNESCO World Heritage Site of Teotihuacan is the site of Mexico's largest ancient city, constructed by a long forgotten culture, and dating from around 300-600 BC. It is believed that after thriving for about 2,000 years, a great fire caused the city to be abandoned and the Aztecs arrived in the region to find a forsaken city. Recognising signs of its previous magnificence they named it what it is today, Teotihuacan, 'place of the gods'.
The central thoroughfare of Teotihuacan is the Avenue of the Dead, a 1.3 mile (2km) stretch lined with the palaces of the elite and connecting the three main site areas, the Pyramid of the Sun, the Pyramid of the Moon, and the Citadel. The Pyramid of the Sun is the third largest pyramid in the world, a huge red painted structure built over a cave, found to contain religious artefacts relating to sun worship. From the top of the stairs the views over the ruins are fantastic. The smaller but more graceful Pyramid of the Moon is situated at one end of the Avenue, with an altar in the plaza believed to have been used for religious dancing. The Citadel at the other end of the Avenue is a large square complex that was the residence of the city's ruler. Within the walls is its main feature, the Templo de Quetzalcoatl, and some striking serpent carvings. The Tepantitla Palace holds Teotihuacan's most famous fresco, the faded 'Paradise of Tlaloc'. There is a museum housing excellent displays of the city's artefacts, models and explanatory diagrams of the site.
Telephone: +52 59 4956 0276/0052
Transport: Teotihuacan bus departs from Gate 8 of Mexico City's Terminal del Norte every half hour
Opening times: Tuesday to Sunday 9am-5pm.