Chichen Itza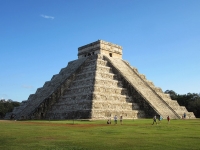 Chichen Itza © David Stanley
The Mayan people are most well known for their advanced knowledge and brilliance regarding astrology, as well as for their incredible resilience. The stone remnants of their civilisation can be found spread throughout Mexico and Central America. Chichen Itza, with its famous pyramids and temples, is the Yucatan's most visited ancient Mayan site, set in the jungle and said to have been inhabited for more than 2,000 years. It was the centre of political, economic and military power, and controlled trade in the region.
The main attraction at Chichen Itza is the Pyramid of Kukulkan (the plumed serpent god), or El Castillo, a grand pyramid topped by a temple that dominates the site and has been declared one of the 7 New Wonders of the World. Each side has a stairway and the top affords excellent views over the area. Inside the pyramid is a smaller pyramid, the inner sanctum, containing one of the greatest finds on the site, the brilliant red jaguar throne with jade spots, inlaid eyes and real jaguar teeth. Unfortunately it is no longer permitted for visitors to climb to the top of the pyramid. During the spring and autumn equinoxes (21 March and 21 September) an exceptional spectacle occurs, lasting for a few hours, that leaves crowds open-mouthed with wonder as the rippling shadows form the illusion of a snake slithering down the staircase. The shadows seem attached to the great serpent's heads at the foot of the main stairway.
Another building of interest is El Caracol (The Giant Conch Snail), an observatory with slits in the dome aligned with certain astronomical appearances at specific dates. On the far side of the site, reached by a causeway, is the Sacred Cenote, a huge natural well into which human sacrifices and other offerings were thrown to please the gods. Many other temples, platforms and an impressive ball court, are components of the ancient city, a site of enormous proportions, featuring many columns and intricate carvings, statues and reliefs. Visitors should bring drinking water, sunscreen and comfortable walking shoes.
Transport: Bus services from Cancun or Playa del Carmen (2.5hrs by bus)
Opening times: Daily 8am to 4.30pm. Light and sound show begins 7pm (autumn and winter) and 8pm (spring and summer).
Admission: MXN 98, including show. Translation headphones are MXN 25 each.