San Juan Chamula and Zinacantan villages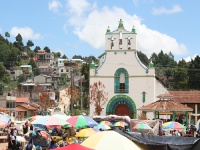 These two highland villages are the home of the Tzotzil people, descendants of the ancient Mayans, and some of Mexico's most traditional indigenous communities. Each village has a distinctive highland dress as well as a weekly market and numerous festivals honouring their patron saint and other special religious days. Visitors should respect the local traditions and customs and be especially sensitive when taking photographs. Villagers can be unfriendly and are wary of tourists - understandably they do not appreciate being regarded as tourist attractions. The best way to visit the villages is with a local guide.
San Juan Chamula is a centre for religious festivals. Its main attraction is the church on the plaza where, every Sunday, the village comes alive with streams of villagers, men in loose homespun white woollen ponchos and women in embroidered finery, who pour down the hills into the candle-lit, incense-filled church, and then congregate together for the weekly market. Their religion is a fascinating mixture of Catholic and traditional Mayan rituals. The most colourful fiesta in the region is the Carnival for which Chamula is famous. The typical dress of the Zinacantan villagers is a red and white striped poncho decorated with tassels and a flat, round hat decorated with ribbons. Geranium is a revered plant that is used in ritual offerings and the countryside is dotted with crosses and offerings dedicated to their ancestor gods or the Earth Lord. Photography is forbidden in the village.